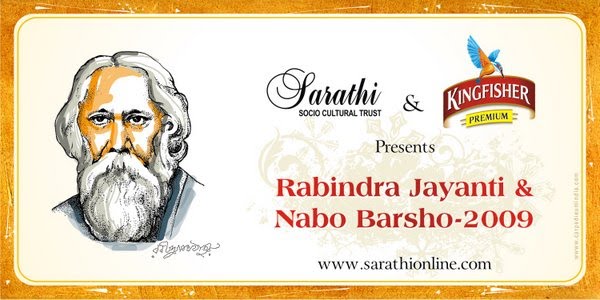 Rabindra Jayanti 2009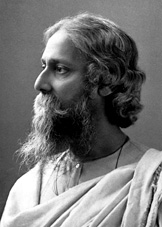 Date
9th May, 2009
Venue
Ranga Mandir Open Air Theater, NGV Campus (In front of NGV Club), Koramangala (the same place where the Saraswati Puja 2009 was held)
Time
7.30pm onwards
Sarathi's events for 2009-10 commences with the celebration of Rabindranath's birthday and Bengali New Year.
A very apt cultural program has been organized to showcase the rich heritage of Rabindranath's songs and poems and other genres of Bengali music. The entire program has been compiled in such a way that it not only enthralls the audience with a delightful musical extravaganza but also gives a thoughtful insight into the impeccable tradition and heritage of Bengali culture for the Bengalis of Bangalore.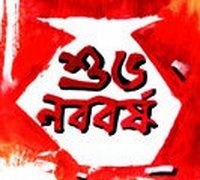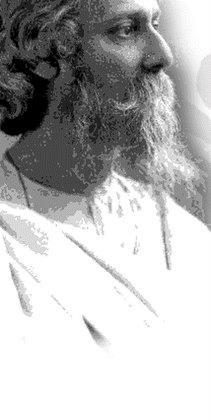 Apart from the in-house performances by our talented members the other highlight of the evening is a professional performance by Souvik and Sinchan.
Souvik Mukherjee, born into a family of music lovers, was a finalist of Sa Re Ga Ma between 2000-2003. An engineering graduate and a self taught musician with a strong background in Hindustani Classical Music, he was the front man in the popular Hindi band 'Aurko' which shot into fame with the release of their debut Hindi album "Nadiyaa". As many as 200 LIVE shows with the band made him a pro in his domain. The second successful album with the band released in Bengali, "ABAH" catapulted his career altogether to new heights Souvik is now actively pursuing his solo career. Multiple shows with Kannada music director Rajesh Ramnath (of Kannada Movie 'Aishwarya' fame) has given him a new dimension in his career. Souvik has also recorded multiple songs for the yet to be released Kannada Movie "Feelings".