Kids & Youth Events 2009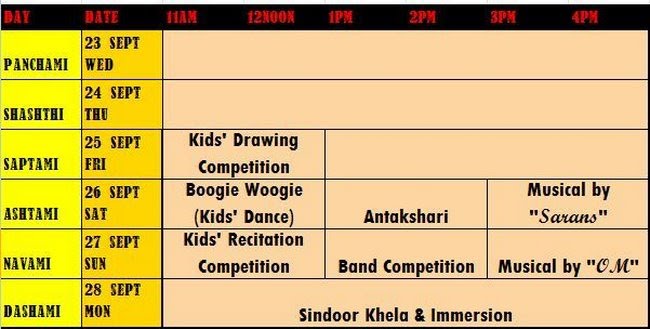 Sarathi takes special care to ensure that each of its events has good participation from kids and youth. The entire morning and afternoon sessions are packed with such events back to back. We've been trying our best to create a college-fest-type ambience during the day. Antakshari and Band competitions have been quite popular in the past few years. Boogie Woogie and the Kids' recitation competitions are equally popular among the kids.
This year we also have two young bands: "OM" & "Sarans" playing for us in the afternoons of Ashtami & Navami.
Drawing Competition - Maha Saptami, Fri 25th Sep 2009, 11 am
Group A: 4 - 6 years
Your favorite subject
Group B: 7 - 10 years
"Rainy Day"
Group C: 11 - 14 years
Image of "Maa Durga"
Recitation Competition - Maha Navami, Sun 27th Sep 2009, 11 am
Group A: 3 - 6 years
Any poem of your choice, minimum 4 lines
Group B: 7 - 12 years
"Haat", by Rabindra Nath Tagore
"Motibil", by Rabindra Nath Tagore
"Sat Patro", by Sukumar Roy, "Abol Tabol"
"Khuku-o-Kathberali", by Kazi Nazrul Islam

Group C: 13 - 19 years
Any poem of your choice, minimum 16 lines