In-house Events 2009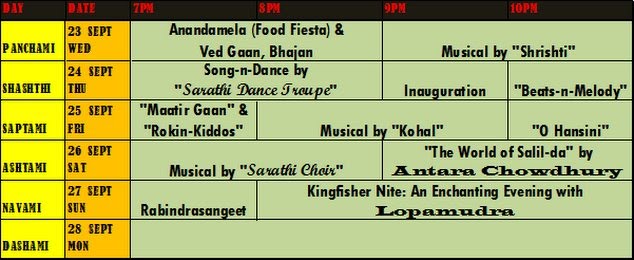 One of the main attractions for the members of Sarathi is the in-house program. We've a lot of talent within us and there's no better place than our own events to put up our shows. Not only the adults, even our kids do have excellent talent. For the past many years we've put up quite a few in-house programs of very high quality. In spite of our professional commitment in our personal lives we do manage to take out time to practice for our programs. Most of the events have become almost regular stuff in all these years - we've been repeating the same format of shows every year. This year we've added a new program - a fantastic musical by the "Rockin Kiddos" - the smart kids of the members of Sarathi. It's on Saptami, 25th Sept, Friday at 7:30pm and directed by Paulami.
Another new addition is the evening of religious songs on Panchami, 23rd Sept, Wednesday.
The regular programs are:
A song and dance by the Sarathi Dance Troupe - a very popular show of choreography and recitation directed by Ujjaini
A program of Rabindrasangeet directed by Anuradha
"Sarathi Choir" - directed by Barnali
A Musical by Kohal followed by "O Hansini", a must for all RD-Kishore fans - a mesmerizing collection of some of the most endearing songs presented by Puneet Joshi & Malvika